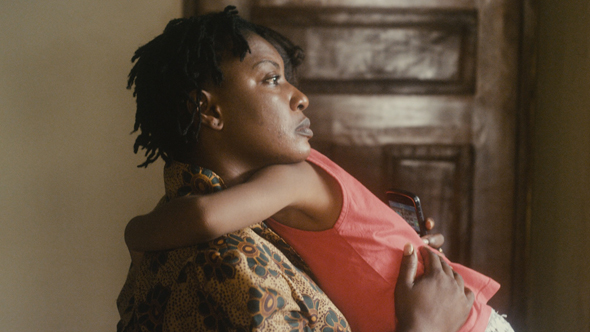 Director/ Writer
: Chika Anadu
Starring
: Uche Nwadili, Nonso Odogwu, Ngozi Amarikwa, Frances Okeke
Synopsis
: During her pregnancy Amaka (Nwadili) realises her unborn child has died. Desperate to give her husband a son she fakes the remaining months of the pregnancy, seeking out someone she can adopt from.
African dramas can often be shocking to a Western audience. A film like
Accession
brings in superstition without irony that's hard to believe, and a rape scene too explicit for most.
B for Boy
is not as extreme as to bring in a plot thread as worrisome as
Accession
's, yet it does explore the polygamous nature of some African marriages. It's easy to imagine that in every culture the in-laws can be difficult; far from the comic nature of this is the tense scenario that Amaka's mother-in-law will bring another woman to her household as another option for her son.
Distraught as Amaka may be for losing her unborn child, the continuous meddling from her husband's mother piles on the drama. There seems to be no peace for the protagonist, and moments of pure serenity are hard to find. As the film is a slow-burner, there still remains nail-biting dread in the form of the 9 month pregnancy – a ticking time bomb for Amaka who must give her husband a son.
Needing to birth a son, the miscarriage is not the only crisis itching away at the main character. Uche Nwadili does a wonderful job at portraying this tragic figure who not only cannot spawn a son, but cannot give her husband a baby whatsoever. Amaka is a strong woman, intent on doing right for her and her family, whatever the cost. Nwadili becomes this woman, nursing sad eyes yet with body language urging her resilience.
The remaining cast are largely overshadowed by Nwadili's efforts, apart from Joy (Okeke) who appears more desperate than Amaka. It's a tight cast for a small story, easy to follow and to observe the cracks appearing in the handful of relationships. As a domestic drama it's a nearly universal story, though some aspects allude to a very specific African lifestyle that limits its audience.
***
Also posted on
LiveForFilms