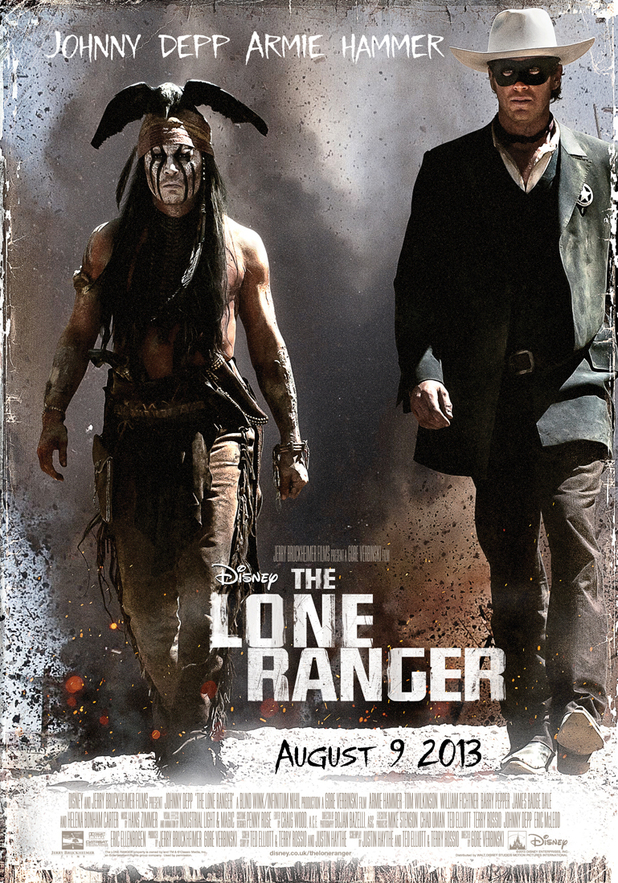 Writers
: Ted Elliott, Terry Rossio, Justin Haythe
Starring
: Armie Hammer, Johnny Depp, William Fichtner, Tom Wilkinson, Ruth Wilson, Helena Bonham Carter, Barry Pepper, James Badge Dale
Synopsis
:
After his brother is killed, John Reid (Hammer) seeks vengeance. On his journey he finds Tonto (Depp), similarly on a quest, and the two team up to fight injustice and conspiracy in the American West.
Forgotten for many years, stuck in development hell for a decade,
The Lone Ranger
seemed destined to stay remembered only as the early incarnations. Casting and director rumours flew around for what seemed like ages (George Clooney was, at one point, down as the masked man) until we found ourselves watching Gore Verbinski tackle the classic adventure with Armie Hammer and Johnny Depp in the lead roles.
After
Rango
– a beautifully realised, surrealist Western for children (that must have been difficult to pitch!) – the prospect of Verbinski handling the epic American West with live-action and well-known characters seemed nothing to fret about. If anyone was destined to make
The Lone Ranger
Verbinski landed that role immediately after
Rango
. The final outcome is not up to par with his last film or the first
Pirates of the Caribbean
but it's equally fun, silly and visually stunning.
Apart from Verbinski linking
Pirates
,
Rango
, and
The Lone Ranger
there is also the million-dollar name Johnny Depp attached to all three. A lucky charm for Verbinski and many others who have worked with him, Depp is not the lead here and, surprisingly, never steals the show. Try as he might to inject some odd humour and strange physicality to scenes, Tonto is quite clearly the sidekick. Armie Hammer may not have top-billing against someone like Depp but it's tough to forget that this is his film. Even as Tonto recalls the story (the film bookended with the recollection), you are already accustomed to the Ranger's iconography with the small child being told the story costumed up to look like the Lone hero.
John Reid has to become The Lone Ranger, much like Hammer has to become the lead. He's not a familiar face to most audience members and has clearly got to earn that top billing title. Still, with his part in this that should never become a future issue as Hammer unquestionably delivers on his lead duties. Sets and set-pieces may be exuberant and costly-looking but the casting is not something to match the aesthetic expense. Sure, there are names like Depp and Helena Bonham Carter attached (though Carter gets perhaps one of the smallest parts) yet looking elsewhere you will find Tom Wilkinson, Ruth Wilson and William Fichtner. Cast your minds back (no pun intended) to the
Pirates
series and you had people not typically sort out for big blockbusters. Even Depp at that stage was a curious addition to a Disney film, a place in Hollywood that now seems nothing but ordinary. It's Verbinski's incentive that sees these huge films Barry Peppered with character actors; it work wonders to not be momentarily distracted every time a recognisable face appears.
Casting his worlds is never what garners the greatest attention Verbinski seems to take, arguably. In his films he dresses and designs his diegetic landscape with meticulous detail. Some many shots show the tiniest of details (from dirt under fingernails, the smear of lipstick, to the fine silverware of an elegant table) that are absolutely stunning. That level of attention for the mise-en-sc
è
ne is seldom seen in contemporary cinema, mostly reminiscent of classic directors such as Douglas Sirk and Nicholas Ray. On top of set-design and costume, Verbinski has equally focused on the surrounding environment. The Fordian backdrops of Monument Valley, Leone-styled train station scenes and postcard pictorials of the old West are captured beautifully by cinematographer Bojan Bazelli.
The reminder to all those famed Westerns has not been incorporated accidentally, working towards the film's greatest asset – the revitalisation of classic adventures and Westerns. Take the film seriously and you fail to see the enjoyment of it all. There are moments where the writers can't help impart some historical significance and these only occasionally work. A horrific massacre shown mid-way through of a tribe of Comanches is shocking and powerful; what does not help is ignorance towards that destruction when a joke about a horse quickly follows after. This as the purest example of two tones not blending together, yet Verbinski is mainly set on thrills and comedy.
It's never laugh-out-loud funny, possibly due to the partnership of Hammer and Depp taking an hour to achieve a noticeable chemistry. Nevertheless, there comes a point in the film where the William Tell score/Lone Ranger theme erupts, the Lone Ranger and Tonto pounce into action and excitement pulsates through you. The big set-pieces are often stunning (with the final fight incredibly well story-boarded and executed), constantly keeping you entertained.
As much as the early scenes can be enjoyed with the Lone Ranger and Tonto, its about them so some may struggle with the first hour. The relationship with the Lone Ranger and Tonto takes its time to germinate, though it does end with a strong bond between the two. It deserves its sequel to expand on the pair along with Verbinski's gorgeous depiction of the West. Conversely, it deserves to continue on with the tradition it's campaigning for – the classic adventure with heroes, sidekicks, villains, love interests and escapades.
The violence maybe a little too strong for younger audiences (12A being a tame certificate for some scenes) and the aforementioned love interest may not mean much, yet this is a kids' film that relishes the inanity and action. Much like the boy being told the story in the film, this will give children a new hero to worship (together with a new Halloween outfit for the parents to buy) and a genre and figure they may have only heard about from their grandparents.